Building Green With CMS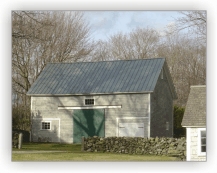 Many builders, homeowners and architects are interested in having a "Green" and energy efficient building. Coastal Metal Service offers many options to achieve a sustainable, durable and cool roof alternative.
Coastal Metal Serive provides our customers with dozens of readily available colors in steel, aluminum, copper, and zinc.


Energy Star Cool Colors
These are some of the colors offered by CMS. Contact CMS for a complete list of color offerings.
| | | | |
| --- | --- | --- | --- |
| Concord Cream | Sandstone | Mission Red | Sierra Tan |
| Ascot White | Dove Grey | Siam Blue | Rawhide |
| Brite Red | Mint Green | Bone White | Coppertone |
| Antique Patina | Silversmith | Teal | Slate Grey |
What Makes A Metal Roof Green?
Cool Metal Roofing is Highly Reflective
Metal roofing meets the EPA Energy Star Roof Products Program performance criteria. Metal roofing is also eligible for other cool roof incentive programs.
Energy Efficient
Reports from the Oak Ridge National Laboratory have shown that reflective metal roofs directly save up to 40% annually in heating and cooling costs.
Sustainable
Metal roofs typically have a minimum recycled content of 25%. It lasts much longer than most non-metal roofing products. It is 100% recyclable at the end of its useful life.
Low Life-Cycle Costs and Durable
Metal roofing has been proven to be more durable than most other roofing systems available. Metal roofs are documented to resist wind, hail, fire, and earthquakes. As a result, metal roofing has low life-cycle costs making it the choice of many school, government, commercial, industrial and institutional building owners.
Fire and Wind Resistant
Metal roofing is extremely fire resistant and can be designed to withstand strong winds.
Lightweight
Due to its light weight per unit area, structural savings can be realized in a building when compared to using heavier non-metal roofing alternatives. For re-roofing projects, metal roofing can often be applied over the original roof, saving removal and disposal costs.
CMS Products and Achieving LEED Points
Coastal Metal Service products may help your project achieve LEED credits from both new construction and for existng structures. LEED is a performance-oriented rating system created by the US Green Building Council where building projects earn points for satisfying criterion designed to address specific environmental impacts inherent in the design, construction, operations and management of a building.
The LEED program can result in economic and social incentives to building environmentally sound buildings, and metal roofing may offer a path to earning those incentives.
Cool Metal Roofing Credit Opportunities Under USGBC LEED-NC v2.2
Sustainable Sites

SS Credit 7.2 Heat Island Effect: Roof
Cool metal roofing can qualify for 1 point within LEED-NC Version 2.2, Sustainable Sites Credit 7.2, Heat Island Effect: Roofing by using roofing materials that have an Solar Reflective Index (SRI) rating minimum of 78 for low sloped roofs (≤ 2:12) or a minimum of 29 for steep slope (> 2:12).
Water Efficiency

WE Credit 1.1 Water Efficient Landscaping: Reduce by 50%
WE Credit 1.2 Water Efficient Landscaping: No Potable Water Use or No Irrigation
WE Credit 2 Innovative Wastewater Technologies
WE Credit 3.1 Water Use Reduction: 20% Reduction
WE Credit 3.2 Water Use Reduction: 30% Reduction
(Metal roofing can easily be applied to captured rainwater systems for building use.)
Energy & Atmosphere

EA Credit 1 Optimize Energy Performance
(Cool metal roofing can be modeled to show the impact of reduced heat gains.)
Materials & Resources

MR Credit 1.1 Building Reuse: Maintain 75% of Existing Walls, Floors & Roof
MR Credit 1.2 Building Reuse: Maintain 95% of Existing Walls, Floors & Roof
(When a building is renovated for reuse, existing metal roofing can qualify.)

MR Credit 2.1 Construction Waste Management: Divert 50% from Disposal
MR Credit 2.2 Construction Waste Management: Divert 75% from Disposal
(When a building is demolished, existing metal roofing is easily recyclable.)

MR Credit 3.1 Materials Reuse: 5%
MR Credit 3.2 Materials Reuse: 10%
(When a building is demolished, existing metal roofing might be reused.)

MR Credit 4.1 Recycled Content: 10% (post-consumer + ½ pre-consumer)
MR Credit 4.2 Recycled Content: 20% (post-consumer + ½ pre-consumer)
(See "Steel Takes LEED With Recycled Content" at www.recycle-steel.org)
Indoor Environmental Quality

(Metal roofing can help ventilation and daylighting and provide low VOC substrates.)
Innovation in Design

(Metal roofing may support exceptional performance, such as for water efficiency.)
Resources
Below is a collection of industry leading websites for you to use.