Our Products
At Coastal Metal Service, we offer a full array of metal roofing and siding products for use in residential, commercial / industrial and agricultural markets. We offer these products in steel, aluminum and copper.

And if you don't find what you are looking for here, please contact us by phone or email. Our experienced purchasing team can help you locate that hard to find item.
Exposed Fastener Panels
Exposed fastener panels allow for screws to be installed through the outside of the panel to firmly attach to the substructure.
Architectural / Standing Seam Panels

Coastal Metal Service offers a wide variety or Architectural / Standing Seam Panels for you to choose from.
Trim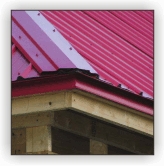 A metal roof would not be complete without the finishing touch of Coastal Metal's trim products. Trim items provide a clean finished look to your roof while protecting your investment from the elements.
> Click Here to view our trim products
Owner Care & Maintenance
Recommended guidelines to ensure your new metal roof provides years of trouble free service and maintains its appearance.

Owner Care & Maintenance