Our Products
> RIB LOC
RIB LOC
®

Exposed Fastener Panels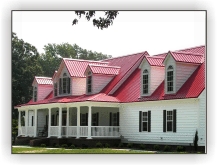 The most recognizable rib structure on the market today. A through-the-sheet fastened panel featuring both strength and easy installation.



RIB LOC Profile


Product Features
RIB LOC panels have single 3/4" high rib on nine (9) inch centers with intermediate stiffening ribs.
For use in commercial/industrial, residential and agricultural applications as roofing, mansards, fascia, siding and equipment screens.
Custom cut to the inch in lengths from three (3) to forty (40) feet.

For panels over forty (40) feet in length, please call.

Warranties up to 40 years.
Available in 29 gauge ASTM A653 GRADE 80 G-90 galvanized, 26 gauge ASTM A653 GRADE 50 acrylume, 29 gauge ASTM A653 GRADE 80 painted and 26 gauge ASTM A653 GRADE 50 painted.
A full line of standard or custom trim items are available in matching or contrasting colors.

Classic Trim For Exposed Fastener Panels

Standard Trim For Exposed Fastener Panels
Colors
RIB LOC® in 29 ga and 26 ga is painted with Siliconized-Polyester paint system.
Seafoam White

Cool Color

Sunrise Red

Cool Color

Scarlett Red

Premium Color

Cool Color

Teak Brown

Cool Color

Sand Dune

Cool Color


Gulfstream Blue Premium Color
Cool Color


Marsh Gray

Cool Color

Deep Green


Cool Color

Sun Tan

Cool Color

Black Beard

Cool Color

Charcoal

Cool Color

Acrylic Coated Galvalume

Copper Penny

Premium Color Cool Color

G-90 Galvanized

29ga. ONLY

Burgundy

Cool Color

Burnished Slate

Cool Color
Colors are represented as closely as possible.
If color match is critical, please request a physical sample.
Installation
Installation Manual for CMS Exposed Fastener Panel Systems
RIB LOC® panels can be installed over open purlins spaced up to 24 inches on center or on solid decking.
When solid decking is used, a water shedding membrane must be installed. This should be a minimum of 30 pound felt.
If end laps are required, add 6 inches to panel length. Recommended minimum slope is 2 1/2" in 12 inches.
Consult your Architect or Engineer for local building codes and/or restrictions.
RIB LOC panels are screwed to your structure and should be installed adjacent to the rib in the flat pans of the panel.
Touch Up Paint
To read about our recommended use of touch up paint, click below.
Touch Up Paint

Owner Care & Maintenance
Recommended guidelines to ensure your new metal roof provides years of trouble free service and maintains its appearance.
Owner Care & Maintenance