Our Products
> MS-16 Panels
MS-16 Panels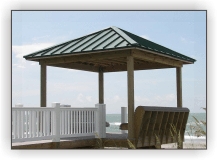 In-the-field mechanically seamed panel.

MS-16 Profile

Product Features
MS-16 panels are 1" high mechanically seamed panel.
Custom cut to the inch in lengths from four (4) to forty (40) feet.

For panels over forty (40) feet in length, please call.

Available in 24 gauge steel with 16 inch coverage and in 16 oz copper.
All panels are produced with striations. Striations help reduce the effects of oil canning.
Warranties up to 40 years.
A full line of standard or custom trim items are available in matching or contrasting colors.
Colors
The MS-16 panel is available in all of our unique COLOR LOC® Kynar 500®/Hylar 5000® painted 24 gauge steel.
Classic Copper

Premium Color

Cool Color

Coastal White

Cool Color

Ruby Red




Cool Color

Colonial Red

Cool Color

Dark Bronze

Cool Color

Medium Bronze

Cool Color

Sand Stone

Cool Color

Sahara Tan

Cool Color

Beaufort Blue

Biscayne Blue

Stone Gray

Cool Color

Hilton Head Green

Cool Color

Patina

Cool Color

Silver Metallic

Cool Color

Onyx Black

Cool Color

Acrylic Coated Galvalume

Charcoal

Cool Color
Colors are represented as closely as possible.
If color match is critical, please request a physical sample.
Installation
Installation Manual for Architectural Panels
MS-16 panels must be installed over solid decking only. When solid decking is used a water shedding membrane must be used. This membrane should be a minimum of 30 pound felt.
Recommended minimum slope is 2 1/2" in 12 inches.
Consult your Architect or Engineer for local building codes and/or restrictions.
A seaming tool must be used to close the seams on this panel.
Oil canning is not considered a cause for rejecting the panels.
Touch Up Paint
To read about our recommended use of touch up paint, click below.
Touch Up Paint

Owner Care & Maintenance
Recommended guidelines to ensure your new metal roof provides years of trouble free service and maintains its appearance.
Owner Care & Maintenance